Kaduna Commences Disbursement Of N1 bn MSME Funds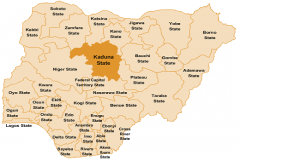 The Kaduna State Government on Thursday commenced the disbursement of another N1 billion naira intervention fund to support operators of Micro, Small and Medium Enterprises (MSMEs) in the state.
The programme, which was executed in partnership with the Bank of Industry (BOI), was to support the accelerated development of the state through job creation, where the BOI and Kaduna state government contributed N500m each under a programme tagged 'Graduate Support Grant'
Speaking at the flag-off ceremony, Kaduna State Deputy Governor, Nuhu Bajoga, who represented Governor Muhtar Yero, described the intervention as very critical and a major component for economic rejuvenation and prosperity of the state.
He further explained that the main aim of the programme is to empower the citizens, especially the graduates and also reduce the level of crime and poverty in the state.
Meanwhile, a mild drama ensued midway into the programme  when hundreds of graduate trainees under the Small and Medium Enterprises Development Agency of Nigeria (SMEDAN)  stormed the venue with placards, demanding the State Governor, Mukhtar Ramalan Yero, to release the N1 billion Graduate Empowerment Loan promised to them over five months ago after their training.
Chanting anti-government songs, the aggrieved Youths blocked the Deputy Governor's convoy as it made its way out of Hassan Katsina House, where the event was held.
They alleged that they were promised by the government to be empowered with money to set up their own businesses immediately after their training.
The Youths also alleged that they were asked to register with money for them to be entitled to benefit from the N1 billion loan.
However, in a swift reaction, the Kaduna State Commissioner for Commerce and Industry, Shekarau Uchissa, denied the allegations saying the state government only went into capacity building where 1000 youths were trained in different skills, but were not promised any money.