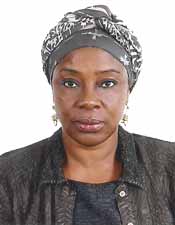 President Goodluck Jonathan has relieved the Executive Secretary of the Nigerian Investment Promotion Commission (NIPC) Mrs Saratu Umar, of her duties.
The Special Adviser to the President on Media and Publicity, Dr. Reuben Abati, made this known in a statement on Monday.
In her stead, President Jonathan has appointed Mrs. Uju Aisha Hassan-Baba, as the new Executive Secretary/Chief Executive of the Commission.
Mrs. Hassan-Baba takes over from Mrs. Saratu Altine Umar as the Executive Secretary/Chief Executive of NIPC with immediate effect.
Other changes effected by the President includes the renewal of the appointments of Ladi Katagum and Reuben Kifasi as Directors of the NIPC for another four years, also starting immediately.
The new Executive Secretary/Chief Executive had served previously as Director-General, Legal Aid Council of Nigeria, Attorney-General and Commissioner of Justice in Anambra State and Director, Legal Services, Federal Ministry of Industry, Trade and Investment.
Mrs Baba headed the panel that reviewed the pioneer status scheme of the NIPC.
President Jonathan thanked the out-going Executive Secretary/Chief Executive for her services and wished her well in her future endeavours.
No reasons were provided for the removal of Mrs. Umar.