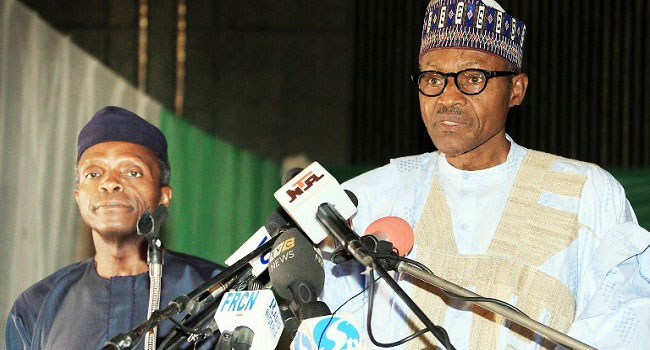 The All Progressives Congress (APC) that will take over the administration of Nigerian government on May 29 has unveiled its agenda, with focus on the economy, checking of corrupt practices and capacity building.
The party, on Wednesday, organised its first major event at the Federal Capital Territory, Abuja, hosting visitors from both within and outside the country.
At the event the party reeled out its agenda.
Areas of interests were listed, with growing Nigeria's economy further, tackling corruption and building capacity for sustainable infrastructural development topping the agenda of the President-elect, General Muhammadu Buhari.
Taking Decisive Actions
The meeting held at the Transcorp Hilton Hotel in Abuja, also focused on job creation, payment of salaries, among other issues and had some individuals expected to play key roles in the incoming government in attendance.
In a speech, a former European Trade Commissioner, Peter Mandelson, urged the incoming administration to set a clear cut agenda for the next four years and focus on taking decisive actions on key areas over the first 100 days in office.
Mr Mandelson told participants at the APC policy dialogue that identifying goals, prioritising the plan of action, concentrating on specifics and team effort would ensure that the 'job gets done'.
He said they should start with tackling corruption which is the highest challenge facing Nigeria, with the Nigerian National Petroleum Corporation a first focus in the oil and gas sector.
Revitalise Agriculture Sector
The Vice President-elect, Professor Yemi Osinbajo, also told the gathering  that their administration would first need to stabilise the economy which he pointed out was at its worst state.
Professor Osinbajo said efforts would be made to further diversify Nigeria's economy, revitalise the agriculture sector and improve the regulatory system.
He said the current servicing of over 21 per cent of the nations debt from the budget was unacceptable.
"Our administration will focus on the agricultural sector to create jobs and contribute meaningfully to the nation's socio-economic development," Professor Osinbajo said.
With two-third of states in Nigeria owing salaries and the nation's debt servicing being financed by the nations budget, members of the All Progressives Congress believe their administration could correct all these anomalies, with an appreciable level of change in the economy.