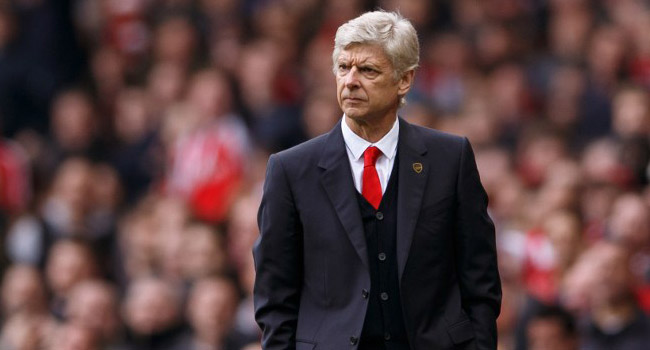 Arsène Wenger believes fatigue played a part in the inability Arsenal to break down Sunderland's brave resistance in their rescheduled league match on Wednesday night.
Wenger faced the media after Arsenal's goalless draw against Sunderland at Emirates Stadium.
On the draw against Sunderland, Wenger said, "You can say that we dominated possession and we lacked a bit of sharpness in our movement, in the way we prepared our chances and in our finishing as well.
"Physically it was an intense game on Sunday from what we have analysed and we were a bit jaded tonight. We haven't scored in the last three games at home and the fact that we couldn't score played a big part in our spontaneous attitude when finishing."
Wenger admitted that his team showing fatigue ahead of the FA Cup final is "a little bit of a concern" but there's nearly two weeks to go. He, however, was not sure if he would rest players in the team's final league match on Sunday.
"Have I got any nerves about finishing third? No. We want to win our game on Sunday, that's all. We want to prepare to win the game on Sunday. You could see that some players are a bit [tired].
"We played our 56th game of the season tonight and some players have given a lot. We still have time to recover for Sunday and prepare well for the FA Cup final. What is important now is that we win on Sunday."
Sunderland went into the game needing a draw to secure safety from relegation and they went for it with a defensive formation to frustrate Arsenal.
"We played with three strikers. Two wingers and one centre forward. We had the full backs going forward. Sebastian Coates especially and John O'Shea defended our crosses very well. We didn't look like scoring, even if we had 28 shots on goal.
"There was something missing always and you could see that they would throw their body in every time. We needed something special to score tonight because they defended very well", Wenger said.
He continued, "When you don't win, you're frustrated and tonight some players looked like they had not completely recovered from Sunday. Now we know that the point we took at Manchester United was vital. Had we lost that game, then we would be in trouble."
Sunderland held their nerves in an outstanding manner to secure Premier League football next season and Wenger could not deny this.
"You have to expect your opponent to play well and you to be good enough to beat them despite that. Overall it is what it is.
"We are in a strong position now to finish in the top three. Let's do it and finish the season well in the cup final. We have to recover. It's important to win on Sunday and give a good final game to our fans. After that we need to prepare for the FA Cup final," he said.
Asides third place being relatively secure, Wenger would also take solace in the performances of his recovering players, particularly Jack Wilshere and Theo Walcott.
He (Wilshere) did alright. He had a good change of pace, he gave a good chance to Mesut Ozil in the first half and he worked very hard for a guy who has not started since November. He was good. Theo Walcott came on and played well, Kieran Gibbs has done well. That's positive."