Boko Haram Insurgency: ICRC Increases Aid In Lake Chad Region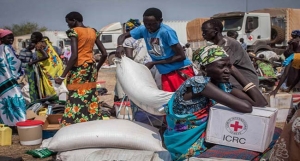 The International Committee of the Red Cross (ICRC) has stepped up its aid in the Lake Chad region, where at least a million people have been forced out of their homes by the Boko Haram insurgency.
ICRC President, Mr Peter Maurer, revealed that the Red Cross programmes in Nigeria, Cameroon, Chad, and Niger, the countries adjoining the Lake Chad, would be expanded.
He was quoted on Reuters as saying that "whole communities have fled their villages and endured unimaginable suffering … even if the fighting stopped tomorrow, it will take years of investment and painstaking work to rebuild livelihoods and services".
"The combined volume of those activities in Lake Chad are today 110 million Swiss francs ($118 million), which makes this region the third most important humanitarian activity of the ICRC worldwide. Just after Syria and South Sudan," Mr Maurer said.
The six-year insurgency, waged by Boko Haram to carve out an Islamic state in Nigeria's north-east, has displaced around 1.5 million people.
Rescued From Boko Haram
In the meantime, some 260 women and children rescued from the Boko Haram terrorists' stronghold, Sambisa Forest, have been relocated from a camp in the North-eastern city of Yola the Adamawa State capital, to an unspecified military facility.
Their movement on Thursday, came after camp officials said they suspected that some of the captives had been communicating with the militants.
The Nigerian troops fighting terrorists in the north-east region of the country, had earlier inflicted another crushing defeat on the Boko Haram militants at the Sambisa Forest, in a major offensive against insurgency.
Military authorities, however, revealed that a large number of the terrorists were killed by ground troops and fighter pilots in an operation described as 'merciless'.