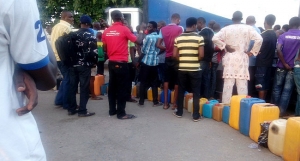 Residents in most Nigerian states are facing hard times, as the scarcity of fuel has triggered hike in the price of food commodities and transport fare.
In Kaduna State, service stations are currently selling fuel between 130 and 150 Naira per litre.
The development has brought untold hardship to residents who are now appealing to the relevant authorities to address the problem.
In Lagos State, a litre of petrol sells for over 300 Naira, leading to huge hike in the price of food items. Transport fare has doubled or trippled in some cases. In some areas of the Lagos State, the amount the commuter pays depends on his bargaining power.
The price of food items has doubled, with sellers willing to see their perishable items lose value than to sell at the old price.
In Lokoja, Kogi State capital, few service stations sell the product between 120 to 150 Naira.
One of the service stations at Nataco that had fuel sell for 130 Naira per liter. Commercial buses that must refuel in the state, had no choice but to buy.
Professor James Adeosun told Channels Television that the high level of corruption in the oil and gas sector led to the difficulties that Nigerians were facing.
In different states, most commercial vehicle owners now patronise the black market, as it has become difficult to get the product at service stations.
The fuel scarcity in the oil-rich nation has lingered for about four months now, with residents experiencing the worst moments. There is no end in sight of the problem, as most service stations are shut.
Motorists and those who do their daily business with petrol complain of spending their fortunes to get the product officially put at 87 Naira per litre.
The black marketers, who had stored the product and are now selling, are ripping off residents by selling at high prices. Some residents have resorted to buying the  product for their daily activities in spite of its exorbitant rate.
The scarcity had been linked to the demand by petroleum marketers for full payment of their outstanding subsidy owed by the Nigerian government.
Fuel marketers are insisting that they will not lift petroleum products except the Federal Government pays them their balance.
But one of them, Capital Oil, is defying the directive, pushing out 15 million litres. If the company sustained supplies, in the next nine days, 135 million litres would be available for consumers.
Meanwhile, the Nigerian National Petroleum Corporation is also discharging 36 million litres currently, as the corporation attempts to cushion the effect of the scarcity on Nigerians.