Dignitaries, World Leaders Witness Buhari's Inauguration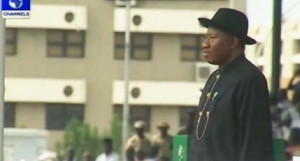 Past Nigerian leaders as well as other world leaders have converged on the Federal Capital Territory to witness the inauguration of Muhammadu Buhari as the President of Nigeria.
This is the biggest event to hold in Nigeria in 2015.
The Presidents of Chad, Guinea, Mali, Zimbabwe and other African countries were at the Eagles Square, venue of the historic event.
South-African President, Jacob Zuma as well as a delegation from the United States, led by Secretary of State, John Kerry, were also present at the Eagles Square to witness the historic inauguration of the 5th Executive President of Nigeria, Mr Muhammadu Buhari.
Past Nigerian leaders, Olusegun Obasanjo, Ibrahim Babangida, Shehu Shagari, Abdulsalam Abubakar, Earnest Shonekan, Yakubu Gowon were also in attendance.
Leader of the All Progressives Congress, APC, Bola Tinubu arrived earlier in company of the APC Chairman, John Oyegun as well as former Vice President, Atiku Abubakar.
Former President, Dr Goodluck Jonathan was ushered in to the colourful event to get the ceremony underway with the President and his wife as well as Vice President, Prof Yemi Osinbajo and his wife welcoming him.
Ahead of these arrivals, P-Square, Faze, fuji legend – K1 Ultimate and other popular artistes have graced the stage to perform carefully selected renditions with messages of hope for the country.