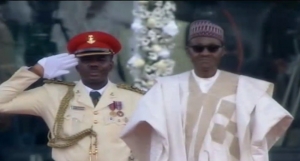 Nigeria's President, Muhammadu Buhari, in his speech after he was sworn in made a strong statement about his commitment to serving the people without external influence, saying "I belong to everybody and I belong to nobody".
At the swearing-in ceremony held on Friday at the Eagles Square in Abuja, the nation's capital city, President Buhari said there would be "no paying off old scores", laying to rest voiced fears that on coming back to office he would go after some persons.
"These fears are groundless… The past is prologue," he said.
President Buhari said the task ahead, though daunting, is by no means insurmountable, expressing his readiness to tackle the enormous challenges facing the oil-rich nation.
"There is now a national consensus that our chosen route to national development is democracy. To achieve our objectives we must consciously work the democratic system. The Federal Executive under my watch will not seek to encroach on the duties and functions of the Legislative and Judicial arms of government. The law enforcing authorities will be charged to operate within the Constitution. We shall rebuild and reform the public service to become more effective and more serviceable. We shall charge them to apply themselves with integrity to stabilize the system.
"For their part the legislative arm must keep to their brief of making laws, carrying out over-sight functions and doing so expeditiously. The judicial system needs reform to cleanse itself from its immediate past.
"The country now expects the judiciary to act with dispatch on all cases especially on corruption, serious financial crimes or abuse of office. It is only when the three arms act constitutionally that government will be enabled to serve the country optimally and avoid the confusion all too often bedeviling governance today," President Buhari stated.
For the full text of the speech, click here.