Bayelsa State Holds Thanksgiving Service For Jonathan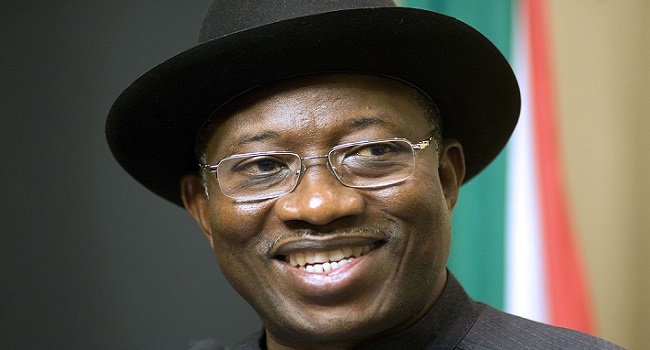 The Bayelsa State Government has held a Special Thanksgiving Service for the immediate past President of Nigeria, Dr. Goodluck Jonathan.
The service was held on Saturday at the St. Peters Anglican Church, Yenagoa, the states' capital.
In a speech at the thanksgiving service, the former President appealed to the people of Bayelsa and the Niger delta to continue praying for him and his family.
It was a gathering of elders from both Bayelsa and Rivers State, singing and dancing in appreciation to the almighty God for what most of the guests described as a safe return of the former President to his people after his tenure in office.
Dr. Jonathan read the first lesson of the service, from the book of Luke 17;11-19 while his wife, Mrs Patience Jonathan read the second lesson from the book of Psalm 121. After reading the bible chapter, Mr Jonathan broke into a song.
In his address of welcome, the Bayelsa State Governor, Seriake Dickson, said the thanksgiving service was held to round off activities marking the "heroic homecoming of the hero of democracy", Dr Jonathan.
The preacher at the service, quoting from the book of job, Reverend Uma Ukpai pointed out that any life without problem was useless.
"Problem is a pathway to promotion. Everyone must go through that other side of life. Sunlight becomes darkness, good health becomes sickness. Nobody remains on the sunny side of life. Every one of us will be tested. You can't escape it. If you have not been tested, you can't be a good soldier of the cross," he said.
In a speech, Dr. Jonathan thanked members of his cabinet, who attended the service; the Bayelsa State Government and Ayo Oritsejafor, the President of the Christian Association of Nigeria for their support while he was in office.
He also thanked the newly sworn-in Governor of Rivers State, Governor Nyesom Wike, who led a delegation of state officials and members of the Peoples Democratic Party in his state to the service.
The former President expressed his gratitude to the former Governor of Bayelsa State, Mr Diepreye Alamieseigha, without whom, he said, he would not have become president.
Dr. Jonathan handed over to President Muhammadu Buhari on Friday in a swearing-in ceremony that was attended by over 50 world leaders.