People Expect Too Much From An Inaugural Speech – Kolawole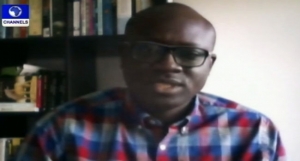 A UK based Nigerian writer and newspaper columnist, Simon Kolawole, believes that people expect too much from an inaugural speech.
This was part of his comments on the varying reactions that have trailed the Nigerian President, Muhammadu Buhari's inaugural speech.
Speaking to Politics Today on Channels Television, he said that an inaugural speech, as delivered by President Muhammadu Buhari on May 29, is only expected to give an hint and not define the agenda of the new administration.
"His first budget, his first appointments, those are the things that will really define the direction of his administration," he said, urging Nigerians not to worry much about the things President Buhari said or failed to say during his inauguration.
Reminded about the inaugural speeches delivered by world leaders including U.S. President, Barrack Obama, and how they are seen to be laden with quotable quotes that successfully raise the hopes of their citizens, Kolawole expressed the view that Nigerians should take the statement "I am for everybody and I belong to nobody" by President Buhari as a notable quote to hold on to.
"That talks a bit about what you call elite capture in Nigeria. The moment you become President you become a hostage to the interests around you, the powers around you, and the supporters around you. This, I believe has been a major hindrance to the performance of Nigerian presidents over the years.
"So if you're looking for quotable quotes I belong to those who believe it is a quotable quote and it has become very popular both on the social media and even in the traditional media," he said.
On the general quality of President Buhari's speech, Kolawole begged not to judge the speech writer but noted that "we have had better inaugural speeches before".
"You need to go back to former President Umar Musa Yar'adua, the speech he gave in 2007. It was a fantastic speech that made us a bit sober and also won a lot of respect when in the speech he admitted that the election was flawed and that was why we needed to reform the electoral process," he said.
He also recalled former President Obasanjo's statement that it was not going to be "business as usual" in his inaugural speech in 1999.