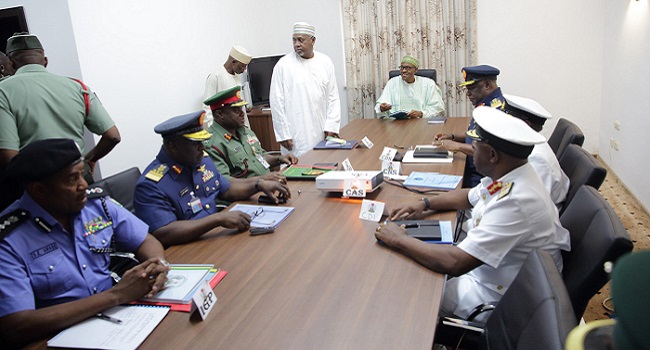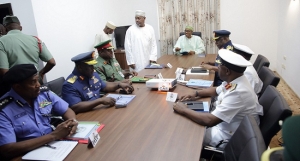 President Muhammadu Buhari has held his first meeting with service chiefs in Abuja. The meeting which began at noon on Tuesday was to review the fight against terrorism by the military and the general insecurity situation in the country.
Our State House correspondent reports that President Buhari received briefs from service chiefs on how far the military has gone in prosecuting the war and what next to be done to end the insurgency.
Briefing journalists after the meeting which lasted for over four hours, the Chief of Naval Staff, Vice Admiral Usman Jubril said that it became necessary to brief the Commander in Chief so that he would have first-hand information about the security situation in the land following his inauguration.
On Boko Haram, the service chiefs also briefed the Commander in Chief about the level of success recorded and what they were doing to sustain the tempo. He said the relocation of the command to Borno State would take place soon.
The service chiefs present as the meeting include the Chief of Defence Staff, Air Chief Marshal Alex Barde, Chief of Army Staff, Lt.Gen. Kenneth Minimah, among others including the Inspector-General of Police, Solomon Arase.
The meeting held at the Defence House.
The President is also expected to travel to Chad and Niger on Wednesday and Thursday for further discussion on matters related to the fight against terrorism.
Meanwhile, the National Assembly say they are in receipt of a letter from the President seeking confirmation of 15 special advisers that will work with him.
This is the first correspondence between President Buhari and the National Assembly since he assumed office on May the 29th.
The President on Sunday announced two appointments; that of Garba Shehu and Femi Adesina as spokespersons.