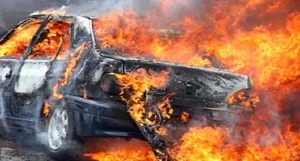 There may have been carnage in Babbangida town of Yobe State, northeast Nigeria as members of the Boko Haram militants in the early hours of Sunday invaded the town in what is being termed a reprisal attack.
A fleeing resident told our Damaturu correspondent, "Yesterday (Saturday) being the market day, there were apprehensions of possible attack on the town but security forces were fully aware and such purported attack was thwarted."
Residents according to him ran out of their homes and took refuge in the bushes for fear of the attack as the militants reorganised at night and launched attack on the town around 6:40 AM on Sunday.
"As we were hidden in bushes like many other residents in the early hours of today (Sunday) we then heard several gunshots and chanting of war songs around the troubled Babbangida town, confirming the earlier apprehensions and not quite long we saw thick smoke around the town which is given a strong signal that houses and other structures were being burnt," he said.
Shortly after, he said there was no more GSM network as no resident could be reached on their mobile phone again which further confirmed the destruction of communication facilities in the town.
Although security forces are yet to comment on the attack, a top security officer told Channels Television that a team of combined security forces had on Saturday launched an offensive attack on the insurgents at their hideout around Sasawa, a border town between Damaturu and Babbangida town, which may have triggered the reprisal attack.
"We carried out an offensive attack on the militants as a result of tip off.
"We gathered that they were preparing to attack Damaturu the state capital and the attack on Tarmuwa may have being carried out as a reprisal to our earlier assaults," the source said.
According to the source, Sunday's attack on Babbangida is unprecedented as damage to property may be huge while extent of destruction is yet to be determined because GSM services are completely down in the town while thick smoke are being sighted from a far.
Babbangida is the headquarters of Tarmuwa Local Government Area of the state and shares boarder with Damaturu the Yobe State capital.
Babbangida is 50 KMs north of Damaturu and has experienced several cases of Boko Haram invasion in the past.
Sunday's attack is the second in the state since President Muhammadu Buhari took over as President and Commander In Chief of the Armed Forces.
During his inaugural address, President Buhari had vowed to work out ways to subdue the militants within a very short time for the restoration of peace in the troubled northeast geopolitical zone of the country.
The insurgents had earlier attacked Fika and Ngalda towns of Yobe State, located west of Damaturu the state capital.