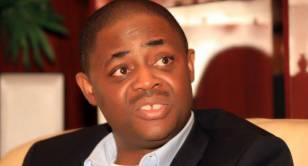 The Federal High Court sitting in Lagos State, south-west Nigeria, will deliver judgement on Thursday, in the alleged money laundering case against Mr Femi Fani-Kayode.
The trial judge, Justice Rita Ofili-Ajumogobia, had fixed the date last month after lawyers representing the Director of Media of Goodluck Jonathan's 2015 Presidential Campaign Organization and the Economic and Financial Crimes Commission (EFCC) adopted their final written addresses.
Fani-Kayode was arraigned before the court by the EFCC on a two count charge of laundering the sum of 2.1 million Naira, while he was serving in former President Olusegun Obasanjo's administration, first as Minister of Aviation and later as Minister of Culture and tourism.
He was specifically accused by the EFCC of conducting financial transactions exceeding 500,000 Naira without going through a financial institution.
However, Fani-Kayode pleaded not guilty to the charges against him.
It would be recalled that the former Minister was first arraigned in December 2008, before Justice Ramat Mohammed on a 47-count charge.
He had pleaded not guilty to the charge and was admitted to bail in the sum of 200 Million Naira with two sureties in like sum.
Fani-Kayode, however, was re-arraigned before Justice Binta Murtala-Nyako, following the transfer of Justice Mohammed from the Lagos Division of the court.
He was also re-arraigned before Justice Ofili-Ajumogobia on February 11, 2013 after the transfer of Justice Murtala-Nyako to the Jos Division of the court.
Justice Ofili-Ajumogobia had in November last year dismissed 38 out of the amended 40-count charge against him.
The judge, however, said Mr Fani-Kayode would need to prove his innocence in respect of two counts for which judgment would be given on Thursday.