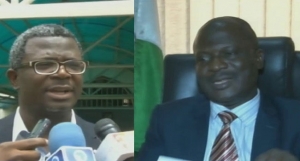 The leadership tussle between the two nominees by the Federal Government to serve as the Director General (DG) of the National Productivity Centre is yet to be laid to rest as both candidates continue to claim leadership of the Agency.
While Dr Faith Robert, a lecturer at the Niger Delta University in Bayelsa State claims his appointment was signed by the former Secretary to the State Government, Senator Anyim Pius Anyim, Mr Kashim Akor also has his offer letter signed by the former Minister of Labour, Senator Joel Danlami Ikenya.
Both nominees claimed their appointments were approved by former President, Dr Goodluck Jonathan.
The National Productivity Centre is an agency of the Federal Ministry of Labour.
Although both candidates claimed to be in charge of the agency, only Mr Kashim was allowed to the office as Dr Faith was denied access to the office on the day he wanted to resume office.
Trying to investigate the situation, Channels Television confirmed from the Permanent Secretary of the Ministry of Labour, Dr. Clement Illoh, via telephone, that he had issued a public notice confirming the appointment of Mr Kashim as the new DG of the Agency.