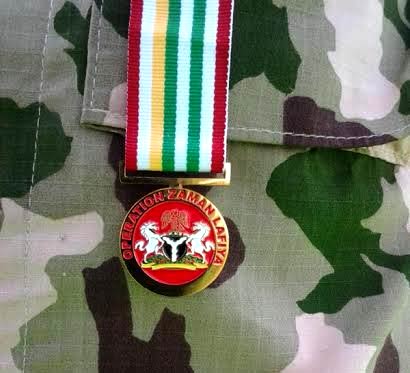 The 27 Task Force Brigade of the Nigeria Army in Yobe State, north-east Nigeria, has honoured its officers and men for their gallantry in the fight against the Boko Haram terrorists.
At a 'Medal Parade' in Damaturu, the Yobe State capital, all the officers and men involved in the operation "Zaman Lafiya" for a period of six months, were honoured with the medals.
Another category of the awards is the Nigerian Army Purple Heart Medal Award meant for those killed or injured while in active service.
At the ceremony in Damaturu, the State Governor, Ibrahim Gaidam, applauded the officers and men for giving their all, for the restoration of peace and stability in the troubled state.
'Never Be Forgotten'
The Governor said the awards symbolise the expression of government's gratitude and assurances that the sacrifices and services rendered to their fatherland shall 'never be forgotten'.
Ibrahim Gaidam also said that apart from the proactive role his administration had been playing since the beginning of the insurgency, the provision of logistic support and giving wrap attention to welfare of officers and men would continue to receive the needed priority.
He said: "In addition to providing logistic support, we have been according priority attention to the welfare of the officers and men who prosecute the insurgency campaign through the provision of drugs to the brigade clinic, payment of allowances, payment of medical bills of those who sustained injuries and assistance to the families of our heroes who lost their lives while combating insurgency in the state".
He paid glorious tribute to those killed in the various operations saying "they have not died in vain as their patriotic act will forever remain green in the memories of well-meaning Nigerians".
The Army Spokesman of the 27 Brigade, Captain Eli Lazarus, while reading out the citation of "Operation Zaman Lafiya" and the Purple Heart Medals Awards, said the awards were approved by the Chief of Army Staff for the gallantry exhibited by the officers and men of the brigade in the various operation against the insurgency which has of recent liberated Gulani and Gujba from the terrorists.
He said the brigade had deployed personnel in Nguru, Damaturu, Geidam, Gashua, Katarko, Goneri/Buni Yadi and would continue to work assiduously towards restoration of peace in the affected areas.