Senate Leadership: Buhari, APC Governors Intervene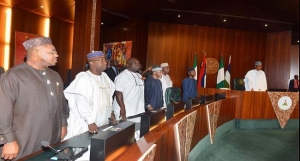 The All Progressives Congress (APC) governors and Nigeria's President, Muhammadu Buhari, have resolved that Senate President, Bukola Saraki, and other APC members in the Senate, should henceforth respect the views of the party that brought them into power.
The decision of the governors, which  is aimed at bringing to an end the leadership tussle which has torn the Senators apart, was taken at a late night meeting which held in the Presidential Villa on Tuesday.
Speaking to State House Correspondents after the meeting, Chairman of the APC Governorship Forum and the Governor of Imo State, Rochas Okorocha, said the party's views should be respected.
Also speaking, the Edo State Governor, Adams Oshiomhole,  said that every one of them, including the Senators, were elected on the APC platform not as individuals, stating that the party's position must be supported by the Senators at all times.