House Plenary Session Degenerates Into Fisticuff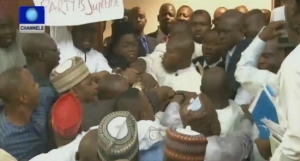 Plenary at the House of Representatives in Nigeria has been disrupted by some members over the nomination of principal officers.
The disruption on Thursday by some lawmakers, who protested a call by the Speaker for an Executive Session, turned the session into a rowdy one.
The angry lawmakers attempted to take away the mace but the sergeant At-Arms and the security of the National Assembly kept custody of the Chamber's symbol of authority.
Lawmakers then started singing and shouting in the chamber, with some carrying placards in protest of the Speaker's decision.
Earlier, before the disruption, Honourable Femi Gbajabiamila, who contested alongside the Speaker, Honourable Yakubu Dogara, for the leadership position, was seen conferring with the Speaker, and then the situation escalated.
After calm was restored, the Speaker admonished the lawmakers not to start the 8th Assembly on a stormy note, as they came to the lower chamber to represent their constituencies.
The session was eventually brought under control and the House immediately adjourned plenary till July 21.
At a press briefing after the plenary, the House of Representatives apologised to Nigerians over the actions of the lawmakers who disrupted the proceedings.
The Chairman of the House ad-hoc Committee on Media, Honourable Sani Zorro, condemned the lawmakers' actions, saying "the House sincerely apologises to Nigerians for the events of the day".