Retired Military Officer Accuses NDA Of Murdering His Son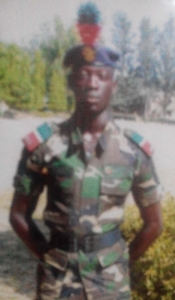 A Retired Wing Commander from Kaduna State, Danladi Kwasu, has accused the authorities of the Nigerian Defence Academy (NDA) of murdering his son, who was until his death an officer cadet in the Academy.
The retired Air Force Officer, accused the NDA officials of pushing his 19 year old son, El-Shadai Kwasu, with academy number NDA/10037, deliberately into a 100 metre-deep lake and drowning him during a training exercise on April 30, 2015.
A letter from the management of the NDA showed that the deceased died from cardiopulmonary arrest after he was drowned inside a river while undergoing a routine watermanship training exercise at Kangimi Dam in Kaduna State.
Mr Kwasu, who is devastated by the sudden death of his son, wants an explanation from the NDA on what could have led to his son's death among the 500 officer cadets that took part in the swimming exercise.
According to him, his son died out of negligence by the Academy's instructors who took him to the river.
He also alleged that about 20 officer cadets had been killed in similar circumstances over the years with the NDA authorities doing nothing to change the situation, although the NDA authorities declined making  an official comment on the allegation.
Channels Television obtained a letter written by the NDA Commandant, Major General Mohammed Idris, conveying the news of the late El-Shadai's death to his parents.
In the  letter dated April 30, 2015, titled 'Notice of Casualty: NDA/10037 Cadet El-Shadai Kwasu', the Commandant said that the late Officer Cadet died as a result of cardiopulmonary arrest secondary to drowning while undergoing watermanship training during one of their routine exercises called Exercise Camp Highland at Kangimi Dam in Kaduna State.
The Commandant's letter also informed the deceased parents to authorize a postmortem on the corpse before burial and also requested that the academy would bear the burial cost. This was said to have been rejected by the father who took his son's death as an act of God.
However, with Kwasu's insistence on knowing what actually killed his son, sources at the NDA have accused him of blackmail.
The Defence Academy wonders why Kwasu, a retired military officer who knows all military doctrines and had during his son's admission into the Academy, signed the parents/guardian consent form, which includes not to claim any compensation or relief for any injury or death in the course of his son's training, suddenly made a U-turn to challenge his son's death.