C/River JUSUN Strike: Prisons, Police Worried Over Congestion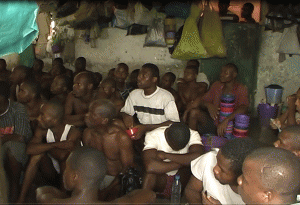 Cross River State's Controller of Prisons, Clement Udosen and his counterpart, the Commissioner of Police, Henry Fadairo, have raised an alarm over congestion in prison yards and police cells.
Prisons and police cells in Cross River State, south-south Nigeria, have become congested due to the industrial action of the State's chapter of the Judiciary Staff Union of Nigeria (JUSUN) that has been on for over seven months.
Despite the suspension of the strike by the JUSUN, Cross River State is yet to comply and the effect has left many suspects awaiting trial unable to determine their fate.
Udosen and Fadairo are calling on the State government and the union to come to an agreement and end the strike for the sake of the common man.
According to the two principal security officers, the refusal by the union to return to work since December 2014 had left the prisons and cells congested.
The Police Commissioner disclosed that police cells across Cross River State presently have about 200 inmates which the command caters for, a situation he described as a huge challenge.
However, the State's Secretary of JUSUN, Ogboni Adjah, revealed that the State government and the union had been meeting, believing a compromise would be reached by both parties soon.
While negotiations are still ongoing, with a feel of human kindness on the part of government, lawyers, Francis Anop and Whyte Ekanem, also appealed to both parties to reach an optimistic agreement.