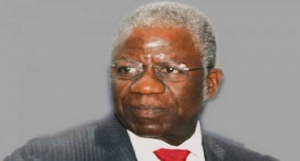 Former Head of Service of the Federation, Mr Steve Oronsaye, has been granted bail on self-recognition by a Federal High Court in Abuja, Nigeria's capital.
Mr Oronsaye who was charged along with two others for 1.9 billion naira money laundering, will deposit his travel documents with the court to fully secure his bail.
A Federal High Court had granted the former Head of Service interim bail on June 13, based on self-recognition and undertaking by his counsel that he would be present in court along with his co-accused.
The court then ordered that they return to court to argue their bail application.
Ruling in the bail application, Justice Gabriel Kolawole, explained that he considered the status of the accused person as a former Head of Service of the Federation for granting him bail on self-recognition.
The second accused Osarenkhoe Afe was also admitted to bail in the sum of 50 million naira and two sureties in the like sum.
The court stated that one of the sureties must be a serving or retired civil servant not below level 16, and that the other surety must be an entrepreneur who owns a landed property worth 75 million Naira and must provide three years tax clearance certificate.
The court further stated that both sureties must provide two passport photographs and swear to an affidavit of means.