Damaturu Bombing: Death Toll Rises To 19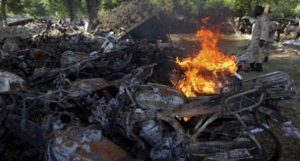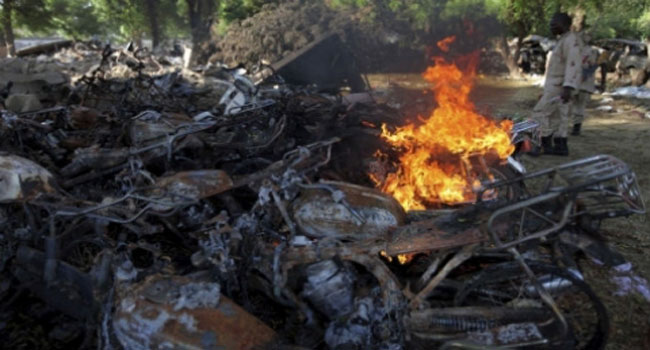 The number of dead persons, as a result of a bomb blast at a Sunday Market in Damaturu, the capital of Yobe State has increased to 19.
The Police spokesman in Yobe State, Mr Toyin Gbadegesin, confirmed the incident.
Mr Gbadegesin said 47 wounded persons were currently receiving treatment at a hospital in Damaturu.
He said a female suicide bomber of about 10 years detonated Improvised Explosive Devices (IED) at the main entrance of the Sunday market in Damaturu.
According to him, the incident occurred around 9:30 in the morning.
The spokesman for the Police also told reporters that five units of undetonated IED were recovered from the scene of the blast and cautioned people to be mindful of people carrying bags, as the militants had resorted to using bags in conveying their explosive devices.
High presence of security personnel was at the scene of the attack while a combined rescue team of National Emergency Management Agency and the Red Cross among other volunteers were on ground to evacuate the dead and also take those injured to the hospital.
At the Sani Abacha Hospital, officials said the injuries sustained by some victims were severe.
Residents besieged the entire hospital to confirm whether their relations, loved ones and friends were involved in the blast.
The Sunday blast came six days after suicide bombers in a highlander Jeep detonate an IED at a police checkpoint at the entrance of Damaturu.
The Yobe Police Command had, within the week, recovered several IED cylinders in the Highlander Jeep, weapons in Gulani Local Government Area of the state as well as the arrest of seven suspected armed robbers terrorising Nguru-Kano road in the northern part of the state.
On Friday, July 17, suicide bombers detonated explosives at the Eid prayer ground where Muslims had gathered to pray to mark the Eid-el-Fitr, forcing residents to celebrate in their homes.
Thirteen people lost their lives in the twin attack which occurred within five minutes. The first one was close to the phase one Eid prayer ground, while the other went off three minutes later along Gwang Sabon Pegi street.