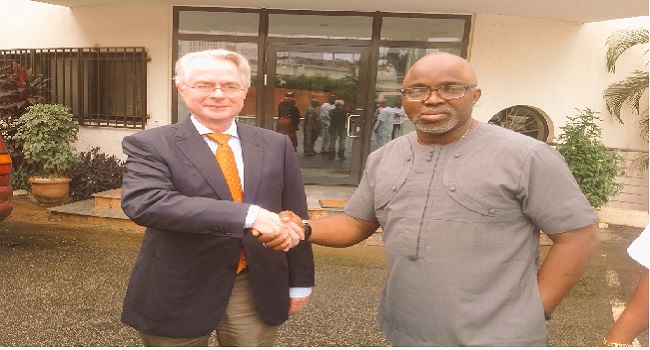 Nigeria Football Federation (NFF) has moved to formalise much closer relationship with current world champions, Germany in all football matters.
In its relentless quest to take Nigeria football to a new level, a delegation from the NFF led by President, Amaju Pinnick, paid a courtesy visit to the Ambassador of Germany to Nigeria, Mr Dietmar Kreusel on Tuesday.
Pinnick, who expressed the football governing body's intention to make Germany a model for development of the game of football in Nigeria, sought the assistance of the European country in developmental programmes for women's football and  capacity building for referees and coaches.
"We keenly desire to partner with the DFB (Germany Football Federation) and the German League". Pinnick said.
"The NFF is presently doing a lot in the area of development of the game in Nigeria.
"Now, we are requesting for support for our development programmes for women's football, as well as capacity building for our referees and coaches".
Pinnick, also underscored the importance of Nigeria in the comity of nations, and reiterated that the emphasis of the present NFF administration was on youth development and making the League the main hub for the National Teams.