President Obama Addresses African Union In Ethiopia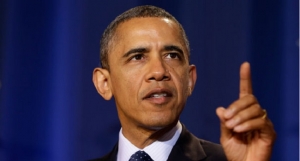 The US President, Barack Obama, says he has fulfilled his pledge to deepen ties with Africa.
Addressing the African Union in Ethiopia's capital, Addis Ababa, on Tuesday, President Obama said that there was no doubt that Africa had a major role to play in global peace and prosperity.
The US President who is the first leader of the United States to address the African union also called for greater food security on the continent, access to public health and improved electricity.
"Cancer Of Corruption"
President Obama also called for an end to the "cancer of corruption", saying it took money away from development.
"Nobody should be President for life.
"I don't understand why people want to stay so long, especially when they have got a lot of money.
"Democracy existed in name but not in substance when journalists were jailed and activists were threatened," President Obama stressed.
The US President stated that corruption was "draining billions of dollars" from Africa.
"The money could be used to build schools and hospitals."
The rapid economic growth in Africa was changing "old stereotypes" of a continent hit by war and poverty, he said.
"But unemployment needed to be urgently tackled on a continent whose one-billion people would double in a few decades".
"We need only look to the Middle East and North Africa to see that large numbers of young people with no jobs and stifled voices can fuel instability and disorder."
The address,  however, marked the climax of Mr Obama's five-day trip to Africa.