Military, Police To Improve Collaboration On Intelligence Gathering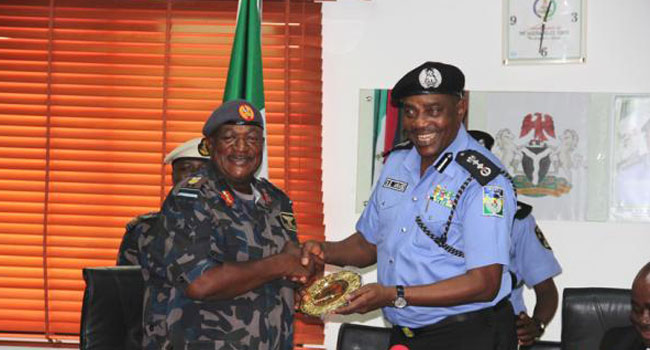 The Nigerian military and the police force have agreed on more collaborative efforts in intelligence, especially in the face of the security challenges in the nation's north-east.
At a meeting on Monday between the Chief of Defence Intelligence, Air Vice Marshal Monday Morgan and the Inspector General of Police, Mr Solomon Arase, the Chief of Defence Intelligence said that intelligence gathering would not make any difference if there was no collaboration among all security agencies and even the citizen.
He stressed the need for all hands to be on deck to confront the nation's common enemy, the Boko Haram terrorist group.
Air Vice Marshal Morgan promised to support the Nigeria Police Force through an improved capacity building on intelligence gathering for Police officers with a view to enhancing National Security.
He also expressed satisfaction in the leadership and management team of the Nigeria Police
The Inspector General of Police told the Chief of Defence Intelligence that quite a good number of Police Officers had benefited from the Intelligence course offered by the Military Intelligence School.
He, however, urged the Defence Intelligence Chief to extend same opportunity to Junior Police Officers with a view to boosting the ties between the two agencies
"Collaboration would work better when officers and men in the lower ranks were properly oriented to work together," he said.
Mr Arase sought for an avenue were a combination of officers and men of the different security agencies could be jointly trained to work together.
Security analysts have stressed the need for security agencies in Nigeria to put more efforts into intelligence gathering in the counter-terrorism operation in the north-east, if the activities of the Boko Haram sect would end.