President Buhari Returns From Cameroon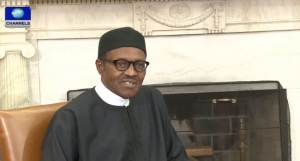 President Muhammadu Buhari is back to Nigeria after a 2-day visit to Cameroon.
President Buhari, before his return, got assurances from his Cameroonian counterpart, President Paul Biya, that the two countries would cooperate in dealing with the Boko Haram menace in spite of border lines.
Both Presidents also discussed strategies on how to improve trade relations.
President Buhari believes that insurgency must be tackled from all fronts as the wave of attacks spill into Cameroon, Chad and Niger Republic.
He said, "We recognise that none of us can succeed alone, in order to win this war we need the collective efforts of each one of us, standing together as a formidable force for good to defeat and end these acts of terror against our people."