Nigeria, Neighbours Have Increased Capacity To Deal With Boko Haram – Buhari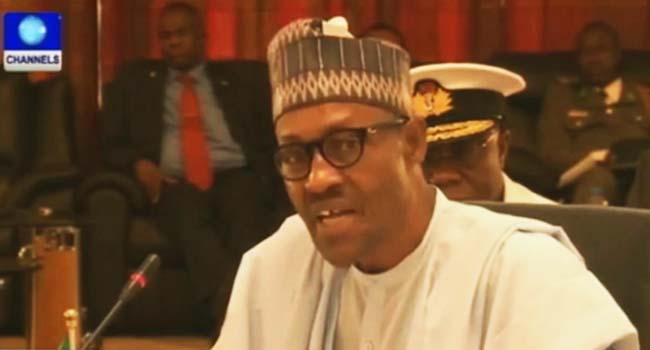 Nigeria's President, Muhammadu Buhari, says that with the formation of a stronger regional coalition, Nigeria and other neighbouring countries have an increased capacity to deal with Boko Haram and other terrorist groups.
President Buhari said this on Friday during a conversation with the United Nations Secretary-General's Special Representative and Head of the United Nations Office for West Africa, Dr Mohammed Ibn Chambas.
According to his Special Adviser on Media and Publicity, Femi Adesina, the President reaffirmed his belief that the full activation and deployment of the Multi National Joint Task Force (MNJTF) which has been established under the auspices of the Lake Chad Basin Commission, would lead to the speedy defeat and elimination of Boko Haram.
President Buhari also said that with the Command and Control Centre of the Nigerian military now in Maiduguri, Borno State, the morale of troops in the front-line states had improved significantly.
"You can tell the Secretary-General that we are doing our best and our best will be good enough for the nation and the sub-region," President Buhari said.
Against the background of upcoming elections in Cote D'Ivoire, Guinea and Burkina Faso, the President also called on the United Nations to assist African countries in the acquisition and use of innovative technologies to ensure more credible elections.
"When citizens recognize that their votes count, it will boost their confidence in democracy and their countries' electoral systems," he said.
Recalling that in the last general elections in Nigeria, the Independent National Electoral Commission (INEC) used smart card readers to authenticate prospective voters, President Buhari observed that while Nigeria could afford the use of such technology in its elections, other African countries may require support and assistance from the international community.
Dr Ibn Chambas commended President Buhari for his strong and positive actions against terrorism.
The United Nations envoy also welcomed President Buhari's successful visit to Cameroon during the week and his reaffirmation of Nigeria's commitment to the peaceful resolution of all border issues with Cameroon.