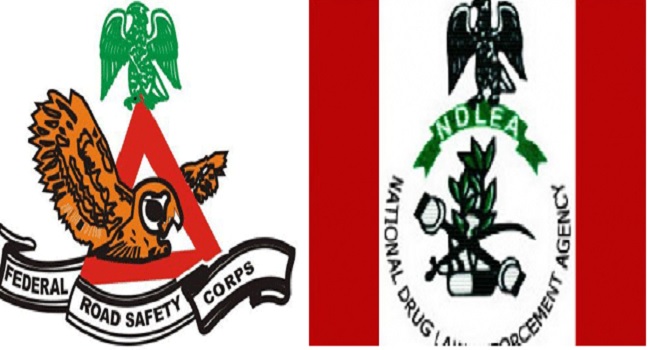 Following the recent fatal crashes in Anambra state, the Federal Road Safety Corps (FRSC) and the Nigeria Drug Law Enforcement Agency (NDLEA) with the help of the state government, have commenced a joint operation on the major highways and parks in the state, to sanitize and ensure that all harmful practices that lead to accidents and loss of lives are stopped.
This decision is coming on the heels of the ban placed on sale of alcohol, illicit drugs and intoxicating substance in all motor parks in the state.
Leading the operation in Awka and Onitsha, the state Commander of the NDLEA, Mr Sule Momodu, and the Sector Commander of the FRSC, Mr Sunday Ajayi, sensitized drivers, road users and traders at various parks on the dangers of drunk-driving and other road indiscipline.
During the stall to stall inspection, many traders were warned against the sale of alcohol and any other intoxicating substances, as all have been placed under ban. The NDLEA Commander interrogated some of the petty traders at Amawbia and Eke Awka Parks.
The NDLEA Commander addressed the park drivers and sounded the note of warning to them as enforcement would commence immediately after the sensitization.
The Safety manager of Adam and Eve park Amawbia, Mr Chimezie Nwankwo, while commending the positive measures from the government, allayed fears of non-compliance to the rules of high way safety, as they had already stopped the sale of any hard drink at the park.
From Awka to Onitsha, the men of the FRSC began the sanitization of the highways, as motorcycles and tricycles from defaulting cyclists were confiscated.
The Sector Commander warned that whoever must use the roads in the state must comply to the rules of the Road Safety so that the lives of the people would not be endangered.
It was also discovered that some cyclists take drugs, as Indian hemp was found neatly concealed in one confiscated motorcycle whose owner fled.
Reacting to the development, Anambra State Governor, Willie Obiano, said the state would commence enforcement of zero tolerance to motorcycle riders plying designated busy roads in the state, as well as arrest of motorcycle riders and passengers who failed to wear crash helmet from August 1.