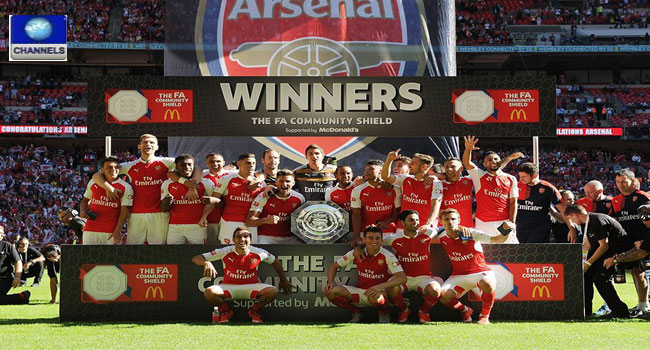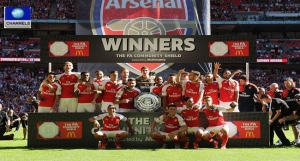 Arsenal on Sunday defeated Chelsea 1-0 to retain the Community Shield at Wembley Stadium.
At the end of the regulation time, Arsenal Manager, Arsene Wenger, had a reason to celebrate against Jose Mourinho's Chelsea, having failed to win in any of his previous 13 attempts.
In February 2014 the Chelsea boss called Wenger a "specialist in failure", and then in October the Gunners boss shoved his rival during a heated touchline quarrel.
Alex Oxlade-chamberlain scored the winner with a powerful drive into the top corner with his weaker left foot.
The Gunners named goalkeeper Petr Cech in their starting line-up following his summer move across London while Theo Walcott, who has just signed a lucrative new deal, led the arsenal attack.
It is the first time that Arsenal is beating a Mourinho-led Chelsea side since 2011.
"Will Not Be A Friendly"
Before the match, Arsene Wenger said that the Community Shield against Chelsea "will not be a friendly".
According to arsenal.com, Wenger admited that a victory in the match, which would be his first against Chelsea Manager, Jose Mourinho, is capable of shaping his team's confidence for the 2015/16 season.
Having enjoyed a perfect pre-season performance, Wenger hopes his side would maintain their momentum against the champions, but warned against reading too much into the result.
"We have to accept that every game is decided and judged as definite," he said. "But you know that in real life it is not like that. The tribunal is out there and will draw conclusions from Sunday.
"But no matter, positive or negative (result), we have to continue our way and focus on ourselves.
"It's a game that is important but it is still preparation. We want to win it and overall it can just give us that little bit more confidence before we go into the season.
"You know, it will not be a friendly as it is like that and it is good like that."
The Gunners go into the match on a run of four successive victories at Wembley, and having scored 14 goals during pre-season.
The morale of the team would have been boosted by the duo of Santi Cazorla and Theo Walcott, who have both agreed contract extensions with the English giants.
The victory will be a boosted for the team, as they prepare for the commencement of a new Premiership season.