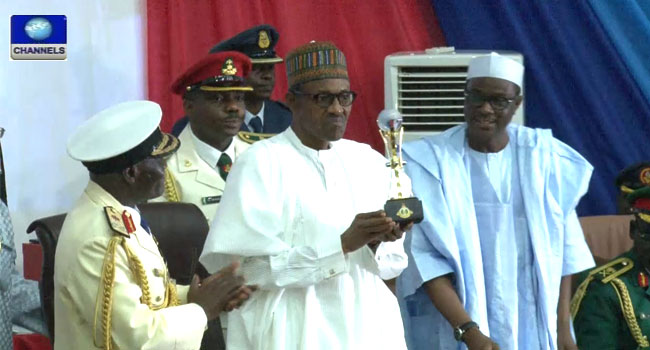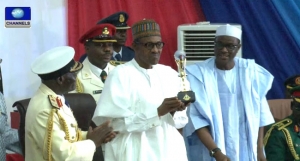 Nigeria's President, Muhammadu Buhari, on Friday received an award for integrity from the Ministry of Defence.
The award was handed over to the President in Abuja by the Permanent Secretary in the Ministry of Defence at the graduation ceremony for graduates of the National Defence Collage of Nigeria.
President Buhari is known for his zero-tolerance stance on corruption, which he had reiterated during his campaign and in an inaugural speech on the day he was sworn-in as the President. This may have triggered the award.
At the ceremony, President Muhammadu Buhari reiterated the Federal government's commitment to providing the needed support to the Armed Forces of Nigeria to enable them meet their operational, logistics and welfare requirements.
He condoled with the victims of terrorism in Nigeria and reassured them of his commitment to ending acts of terror in the north-east.
President Buhari also assured Nigerians that his administration had the will, resolve and conviction to apply a comprehensive strategy and coordinate all elements of national power against terrorism and insurgency in the north-east.
At the ceremony, President Buhari also condemned the country's over-dependence on other countries for critical military equipment and logistics and directed the Federal Ministry of Defence to strategise for the establishment of a modest Military Industrial Complex for the production of domestic weapons, to meet some of the requirements of the Nigerian Armed Forces.
"We must evolve viable mechanisms for near-self-sufficiency in military equipment and logistics production complemented only by very advanced foreign technologies.
"The Ministry of Defence is being tasked to draw up clear and measurable outlines for development of a modest Military Industrial Complex for Nigeria," President Buhari said.