Jonathan, Buhari Meet In Abuja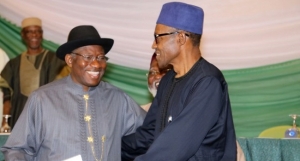 Nigeria's President, Muhammadu Buhari, met with the immediate past president, Dr. Goodluck Jonathan, at the weekend in the Presidential Villa.
A source told Channels Television that the meeting between both leaders held in the night and lasted for about one hour.
It was not exactly clear what both men discussed, but there were strong indications that the leaders tried to examine the ongoing corruption investigation of the former president's cabinet.
Channels Television gathered that after the meeting, both men parted chatting and laughing.
May 29, 2015, was the last time former president, Goodluck Jonathan was seen at the Presidential Villa in Abuja.
Also at the weekend, it was reported that a former president, Olusegun Obasanjo visited Muhammadu Buhari at the Presidential Villa.
Obasanjo's visit to the Villa is said to be his first since Buhari was elected and inaugurated as the President of Nigeria.
Since assumption of office, President Buhari has met with leaders in both Africa and around the world in order to win the fight against corruption and terrorism.