UN Security Council To Focus On Security Crisis As Nigeria Presides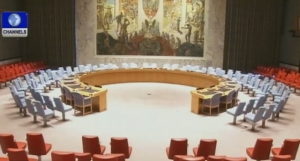 The Middle East crisis, especially in Syria and Yemen coupled with deliberations on Liberia sanctions will be the focus for the meetings of the United Nation's Security Council that will be presided over by Nigeria.
Nigeria's presidency over the United Nations Security Council meetings for the month of August will begin in earnest on Wednesday August 12 and Nigeria's permanent representative, Professor Joy Ogwu, will be leading the discussions for the next three weeks.
All representatives of the permanent and non-permanent members of the Council will deliberate on how to maintain global security and peace.
In the meantime, many Nigerians abroad have expressed optimism that Nigeria's presidency at the Council would bring closure to the security challenges the oil-rich nation's north-east.
Nigeria is currently tackling terrorism by members of the Boko Haram, who are trying to establish an Islamic State and also end western education in the north-east region.
The Nigerian government is also seeking effective ways to stamping out terrorism.
Opinions are that the country should make use of the opportunity to achieve needed peace in the north-east.
Channels Television's correspondent in New York, Adesewa Josh, said expectations were high among Nigerians in the U.S.
"This is a wonderful opportunity I must say for Nigeria to express its desire for recommendations that will help in the fight against terrorism. This is not only something that is happening in Nigeria. So hopefully, Nigeria can use this platform to express here desire for terrorism, if not stamped out to be handled in a very forceful manner," Courtney Noel said.