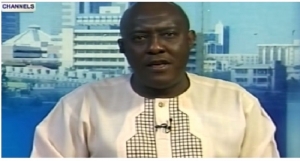 The Peoples Democratic Party (PDP) has descried as reckless, irresponsible and highly provocative, Sunday's statement by the ruling All Progressives Congress (APC), with a controversial list of alleged looted funds.
In a statement by the opposition party's spokesman, Mr Olisa Metuh, released in response to the APC claims, the PDP said that the party bandied imaginary figures against the previous administration to suit a heinous purpose.
The spokesman for the APC, Mr Lai Mohammed, said the party saw the necessity of "reminding Nigerians the kind of massive looting of the treasury that took place in the past few years, so they can better appreciate the seriousness of the issue at stake".
But the PDP said that the APC had again exhibited its emptiness and disgusting desperation for public approval.
The statement by the PDP read: "In trying to escalate their stock-in-trade of lies, wild allegations and falsehood, the APC failed to understand that their baseless fabrications are capable of throwing an unsuspecting nation into chaos.
"The spate of fabrications by Lai Mohammed has become a sickening source of worry for well-meaning Nigerians including those in his party," the PDP stated, urging President Muhammadu Buhari and the APC to "call their spokesman to order before he plunges the country into crisis with wild and unsubstantiated claims".
The opposition party further stressed that instead of engaging in unnecessary playing to the gallery, the APC-led government should get serious with the fight against corruption by investigating and prosecuting corrupt persons.
It also urged the APC to move on with the demands of governance, especially in fulfilling their numerous campaign promises for which they were voted into office at the centre.