Macedonian Police Fires Tear Gas At Migrants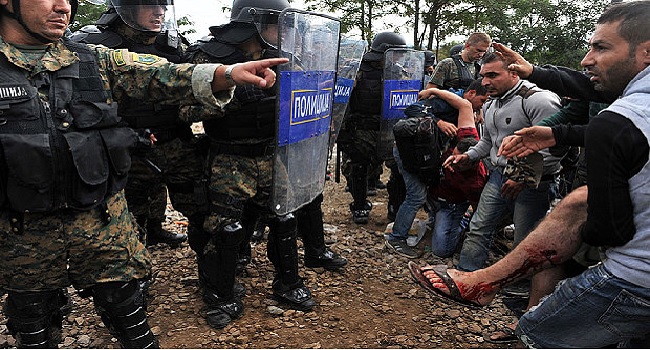 Macedonian police have fired tear gas and stun grenades as thousands of people try to enter Macedonia from Greece.
It came up a day after Macedonia declared a state of emergency in two border regions to cope with an influx of migrants, many from the Middle East.
The state of emergency was declared because of the number of people wanting to head north to Europe, leading to desperate scenes of crowds battling to board packed trains.
There were several attempts to charge officers by angry people among a crowd of 3,000 from the Middle East, Africa and Asia.
They had spent the night in the open in a no man's land between the two countries after Macedonia sealed its southern border to migrants and refugees.
At least eight people were injured in the confrontation earlier and one youngster was seen bleeding.
Large numbers spent the night stuck on Macedonia's southern frontier, and tried to charge police in the morning.
The Balkan nation has become a major transit point for migrants trying to reach northern EU members.
Some 44,000 people have reportedly travelled through Macedonia in the past two months.
An 18-year-old Syrian man told Reuters he was able to cross overnight into Macedonia, but others were caught and drove back.
"I ran fast and escaped," he said. "They got my brother and most of the others and sent them back to Greece."
Greece, particularly on the tourist hotspot islands, has been overwhelmed by the influx because some 160,000 had arrived in the country so far this year.
Others have walked to Bulgaria from Turkey before making their way through Macedonia or Serbia before heading north to the EU.
Some 39,000 migrants, mostly Syrians, have been registered as passing through Macedonia in the past month – twice as many as the previous month.
The situation at the border with Greece is not helped by Macedonia's tense relationship with Athens.
The dispute originates over the Macedonia's name after it declared independence from the then Yugoslavia in 1991.