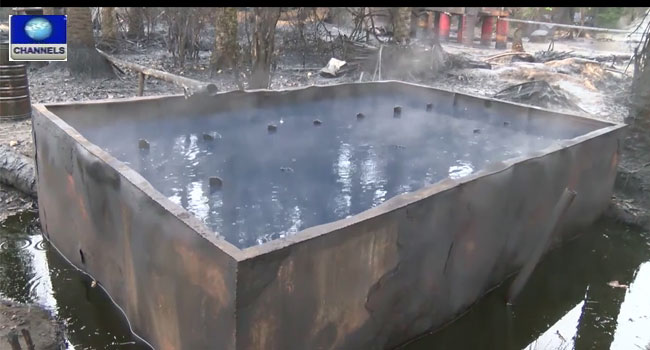 The new Commander of the Joint Task Force headquarters situated in Yenagoa, Bayelsa State, on Wednesday pledged to increase the tempo of surveillance in the area to put an end to the activities of crude oil thieves.
Major General Alani Okunlola took over the control of the command from Major General Emmanuel Atewe.
The new Commander, Major General Okunlola, said he would uphold the achievements that had been recorded by his predecessor.
His deployment had come after Major General Atewe was posted to the Defence Headquarters in Abuja as the Chief of Logistics.
Major General Atewe conducted the new commander around the facility of the Joint Task Force (JTF) before formally handing over to him.
While addressing the officers of the JTF, Major General Atewe enjoined them to offer the new Commander their support to ensure that they would achieve the mandate of the force.
Having shown the new commander the structures on ground, Atewe signed the dotted lines and handed over the documents which would serve as a guide for the daily operations of the new commander.
After he got the documents, Major General Okunlola, accompanied by the Deputy Governor of Bayelsa State, Rear Admiral John Jonah (rtd) proceeded to the change of flag and salute ceremony.
Jonah advised the new commander to follow in the steps of the outgoing Commander, describing Major General Atewe as an officer who did not only do his best to reduce oil bunkering in the region, but also positively impacted the people and the environment.
The officers of the JTF (Operation Pulo Shield) also showed their appreciation to Major General Atewe by presenting him with beautiful parting gifts.