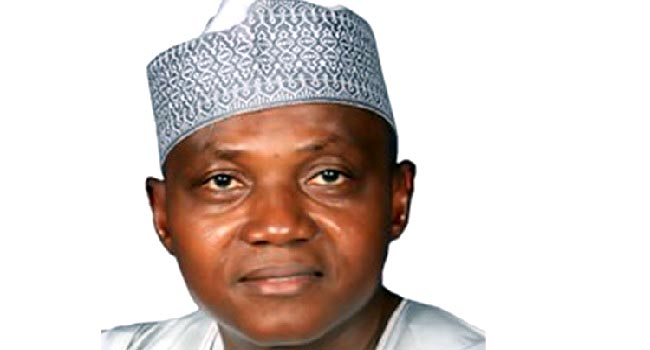 Nigeria's Presidency has advised the Peoples Democratic Party (PDP) to stop distracting the President with frivolous and unfounded allegations of selectivity in the war against corruption.
Reacting to an allegation of the opposition party, published by its National Publicity Secretary, Mr Olisa Metuh, the Senior Special Assistant to the President on Media and Publicity, Mallam Garba Shehu, said that contrary to the PDP's allegations, President Buhari did not shield any All Progressives Congress (APC) government official from facing prosecution for corruption.
The President's spokesman explained that since President Buhari resumed office, he had never told the Economic and Financial Crimes Commission (EFCC) not to probe any APC Governor because they were party members.
'Malicious And Unfounded' 
According to Mr Shehu, it was convenient for the PDP to remember the cases of Sule Lamido, but it pretended not to notice the fact that former Governor Murtala Nyako of Adamawa State, who is an APC member, was also arrested and arraigned simultaneously.
The Presidency in the statement, asked Mr Metuh to produce any evidence or instance when President Buhari interfered in the activities of the EFCC by telling them who to prosecute and who to shield from prosecution.
President Buhari's spokesman also described as 'malicious and unfounded' the allegation by Metuh that "funds from the Excess Crude Account are being depleted by the Buhari's administration to allegedly pay back APC Governors that contributed to his presidential campaign".
He advised Mr Metuh to either come forward with evidence, or apologise to Nigerians for willfully propagating falsehoods in order to gain cheap publicity or public sympathy.
The Media aide said it was the responsibility of the former PDP administration to prosecute APC and PDP Governors whose alleged cases of corruption were brought to its attention.
He said if the unseated PDP administration had facts against APC governors, it was within its powers to prosecute them.
Following the allegation that the Buhari administration was secretly planning to award oil refining licenses to its cronies, the Presidency described the accusation as absurd and ridiculous. It stressed that the adherence to transparency and due process would always be President Buhari's philosophy on doing things.
The Presidential statement reiterated that the Buhari-led administration was passionately committed to fighting corruption in all its ramifications and that no amount of blackmail, distraction and false allegation would deflect the President from this course, in line with his campaign promises.