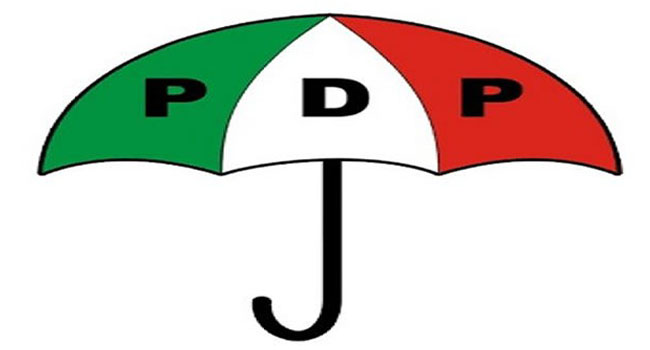 The Anambra State Chairman of the Peoples Democratic Party (PDP), Prince Ken Emeakayi, has called on the Police to close down all unlawful PDP Secretariats wherever they may be located in the state.
The Chairman also called for the arrest of any parallel executive or anybody impersonating the state Chairman or Executive of the party, so as to avoid crisis and anarchy in the state.
Mr Emeakayi made the request on Sunday while briefing reporters in Awka, the Anambra State capital.
He stressed that the party would no longer fold its arms and watch activities of groups that parade as PDP executives continue to cause confusion in the state, even after a letter from the National Secretariat of the PDP to Anambra State Police Commissioner had laid to rest issues concerning the party leadership in the state.
The National Chairman of the party, Uche Secondus, had in a letter to Anambra State Commissioner of Police, Hassan Karma, cleared the air on who the authentic State Chairman of the party is.
The Chairman said that some members of the party, who felt the entire party faithful were not carried along, maintained other secretariats aside the PDP State secretariat at No 1 Ezidiegwu Road, Udoka Housing Estate, Awka, the capital of the state.
Mr Emeakayi described the action as illegal and unauthorised, saying the use of the name and logo of the PDP should no longer be tolerated.
In a swift reaction to the request for apprehension of parallel executive and the closure of illegal secretariat, the State Commissioner of Police acknowledged the receipt of a letter from the National Secretariat of the PDP affirming Mr Emeakayi as the authentic Chairman.
Mr Karma acknowledge that other groups were still laying claims to the position, citing court judgment. He said that Police would not want to meddle with political party affairs, but advised that the party should keep to the path of peace.
Though the position of the Police was that they would not embark on any arrests until a court authority backs the orders, the Chairman insisted that the Police should not renege in the discharge of their duties with a flimsy excuse that the matter was an internal affair of a political party.
He said: "The Police are a creation of the 1999 Constitution with assigned roles of crime prevention and apprehension of offenders, so also registered political parties which are also governed by the various provisions of the constitution".
Mr Ekeakayi was declared the Chairman of Anambra State PDP on July 26 by the Congress Committee Chairman of the party, Mr Ike Abonyi.