Nigeria's Neighbours Contribute 8,700 Troops To MNJTF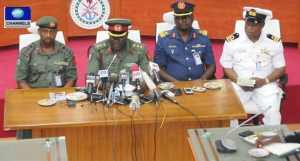 Nigeria's neighbouring countries have contributed 8,700 troops to the Multi-National Joint Task Forces (MNJTF) on Lake Chad Basin towards ending the activities of the Boko Haram in the region, the military said on Wednesday.
The contribution was announced by the Defence spokesman, Colonel Rabe Abubakar, while giving update on the efforts to end insurgency in the north-east.
Colonel Abubakar stated that the mobilisation and deployment of troops of the MNJTF had reached advanced stage.
He said: "Our neighbouring countries have exhibited high sense of commitment and sufficient cooperation towards ending the obnoxious activities of Boko Haram terrorists in the region with the contribution of 8,700 troops.
"When fully deployed, the troops of MNJTF will work closely with the Nigerian military to ensure a safe and terror free region".
The Defence spokesman further said that mop up operation and mines clearance had been intensified in the liberated areas in Nigeria's north-east.
"So also necessary measures are being put in place to ensure that safety and security prevail in those places. However, it will definitely require collective effort to detect and apprehend the would-be suicide bombers in our respective localities," he said, urging the public to be very vigilant and forthcoming with credible and timely information.
He stressed that credible information would assist the security forces in discharging their duties of safeguarding the lives and properties of the people.
According to him, the military authority is also carefully reassessing and restrategising on effective ways to combat the re-emergence of violent crimes in the Niger Delta.
"Combined efforts of security forces to stamp out acts of illegal activities such as oil theft, illegal oil bunkering, piracy and kidnapping, among others have yielded positive results. The offensive operation will continue with renewed vigor until these illegal acts are drastically reduced.
"I wish to appeal to other stakeholders in the maritime industry to fully cooperate with the Nigerian Navy and other security forces to accomplish this enormous task," he said.