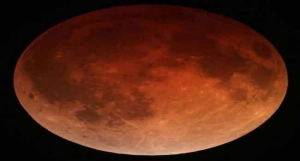 A lunar eclipse is expected to be visible in Nigeria on Monday September 28, 2015 for five hours and eleven minutes.
According to a statement signed by the Deputy Director in charge of Media and Communications at the National Space Research and Development Agency (NASRDA), Dr. Felix Ale, the natural occurrence will start by 1:11am and end by 6:22 am.
The lunar eclipse is an astronomical event that occurs when the earth comes in-between the Sun and the Moon, and the Earth casts its shadow on the Moon, so that the Moon appears reddish.
The agency said the event will be visible in Abuja and in locations with the absence of cloud cover.
Other regions of the world that will experience the event include Europe, the Americas and South East Asia.
The agency advised Nigerians not to panic, and to go about their normal activities.