APC Accuses PDP Of Finding Faults Unnecessarily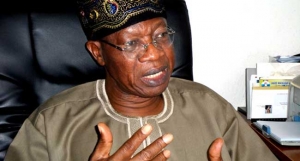 The All Progressives Congress, APC, has dismissed as unnecessary, what it calls the PDP's ceaseless accusations.
The APC National Publicity Secretary, Alhaji Lai Mohammed, was responding to PDP's allegation that APC and the present leadership was pursuing policies aimed at destroying Nigeria's democracy and imposing what the PDP describes as dictatorship in the country.
Mr Mohammed warned the opposition party to stop distracting the Buhari administration from its onerous task of reviving the country's fortune.
"The PDP is wondering why we are not responding to the wild accusations emanating from their fertile imagination. It is because we consider the accusations nothing but an irritant."
Mr Lai Mohammed said that the PDP's assault on the Buhari administration's anti-corruption battle is a futile attempt at saving his own neck and that of his party. But unfortunately, it is too late in the day for them.