Buhari Commends Guinea-Bissau On Resolving Political Crisis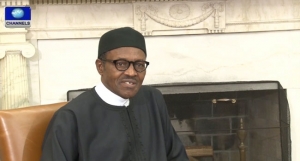 President Muhammadu Buhari has commended President Jose Mario Vaz and the people of Guinea-Bissau for the peaceful resolution on the recent political crisis that left the country without a government for 37 days.
The president also applauded the laudable role played in the resolution of the crisis by his Special Envoy, Chief Olusegun Obasanjo who was also adopted by ECOWAS as the regional body's Special Envoy on the political dispute in Guinea-Bissau.
President Buhari while welcoming President Jose Mario Vaz's acceptance of solution to the recent political crisis proffered by Chief Obasanjo, he also congratulates Mr. Carlos Correia on his emergence as the new Prime Minister of Guinea-Bissau.
He has advised all stakeholders in the development and progress of Guinea-Bissau to desist from any further actions that can jeopardize the stability of the country and its democratic future.