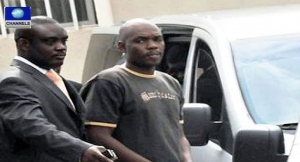 The Federal Government has asked Justice Gabriel Kolawole of the Federal High Court in Abuja, to put the alleged mastermind of October 1, 2010 Independence Day bombing, Charles Okah in chains.
Mr Okah, who is standing trial on charges of terrorism alongside Obi Nwabueze, had on October 6, 2015, caused a commotion at the court, as he attempted to end his life by attempting to jump down through the window from a three storey building.
The counsel to the government, Alex Iziyon, made an oral application before the court on Tuesday, requesting that Mr Okah be chained in view of what transpired at the last proceedings of October 6.
However, the counsel to Mr Okah, Samuel Ozidiri, apologised on behalf of his client and urged the court to discountenance the prosecution's request, as it was premature and not worthy of any sympathetic consideration.
Delivering a bench ruling on the application, Justice Kolawole said granting the prosecution's request may turn out to be the greatest distraction in the suit.
According to him, even though the conduct of Mr Okah requires the court to put some form of restrain, the court will pull back its exercise of discretionary jurisdiction based on the apologies given by his lawyer.
He, however, warned Mr Okah not to test the resolve of the court.
The trail was adjourned to October 27 for continuation.