Pro-Biafran supporters Stage Protest In Rivers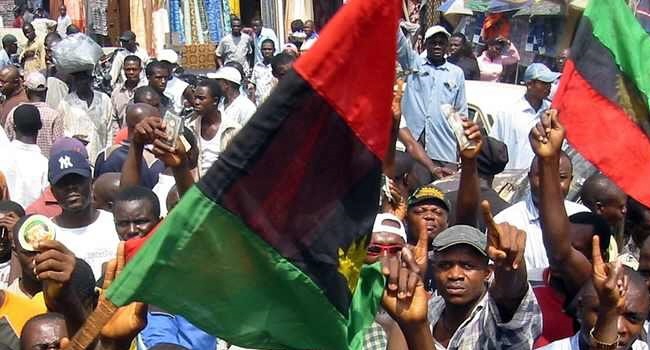 Hundreds of pro-Biafran supporters carrying placards with various inscriptions have stormed the streets of Port Harcourt, the capital of Rivers State in Nigeria's south-south region, causing temporal gridlock on the Aba-Azikiwe road axis.
According to them, their protest was to show solidarity for the Biafran Radio Host, Kalu, who was arrested by security agencies and later released on administrative bail.
The protesters said that although authorities in the country viewed them as 'anti government', they 'remain resolute to have a nation of their own'.
However, the demonstration of the pro-Biafran supporters' was cut short, as the Rivers State Police Command said it had taken control of the situation.
"The protesters have been dispersed," a police source said.
The State Police Commissioner, Musa Kimo, told Channels Television that although the protesters stormed the streets without permission, his men have been dispatched to all flash points in Rivers State to ensure no further breakdown of law and order.
He warned that anyone found to breech the peace would be made to face the law.
Mr Kimo further disclosed that some arrests had been made so far in connection to the protest, stating that details would be provided in due course.