81 Senators Accompany Saraki To Code of Conduct Tribunal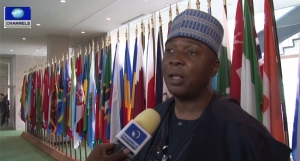 Senate President, Dr Bukola Saraki has arrived at the Code of Conduct Tribunal in company of 81 senators, including the Deputy Senate President, Ike Ekweremadu.
The Assistant Chief Registrar of the Court, Mr Bintu Garba has barred cameras from taking shots of the proceeding or broadcasting it live.
Mr Garba said the instruction is from the Chairman of the Code of Conduct Tribunal, Justice Danladi Umar.
The Tribunal had adjourned till October 21 to commence Dr Saraki's trial for the 13 charges preferred against him by the Code of Conduct Bureau, which alleged that the Senate President made false asset declaration as Kwara State Governor between 2003 and 2011.
The Senate President had appeared before the tribunal on September 22.