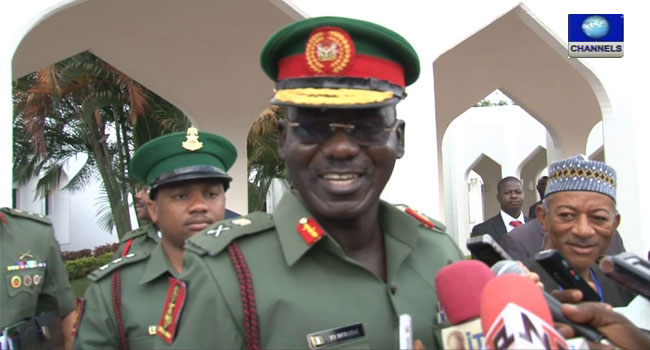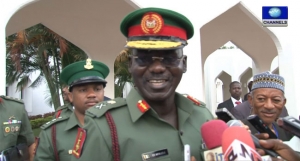 The Chief of Army Staff, Lieutenant-General Tukur Buratai, has set up a board of inquiry to investigate alleged involvement of officers and soldiers in partisan politics especially during the April 11 elections.
Lt. General Buratai disclosed this when he met with officers of the 1 Division of the Nigerian Army in Kaduna State, North West Nigeria on Saturday.
He said that the board would investigate the alleged unprofessional and unethical conduct of some Army personnel during and after elections, especially their relationships with the political class with the aim of sanctioning such officers.
Lt. General Buratai explained that the essence of the probe was to prevent future unprofessional conduct by officers and men in the performance of their constitutional roles, stating that any officer found wanting in such unprofessional act would be punished according to military laws and ethics.
He also restated that the Nigerian Army has been working hard to succeed in meeting up with the December deadline of defeating the Boko Haram insurgents in the north east in spite of the renewed bombings by suspected members of the Boko Haram sect.
Buratai also stressed the need for them to collaborate with other security agencies in the fight against insurgency and other related crimes across the country, charging the officers to maintain professionalism, vigilance and remain apolitical in the discharge of their duties.
In line with his vision of maintaining a strong and professional force, Lt. General Buratai maintained that the role of the Nigerian Army would remain only to protect the sovereignty of the country and not to engage in any form of politics.