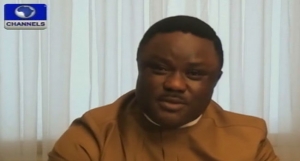 The Governor of Cross River State, Ben Ayade, has proposed a budget of 350 billion Naira for the 2016 fiscal year.
Christened "Budget of Deep Vision", the 2016 budget, which is Ayade's first budget as Governor, represents 273.7 per cent increase over the 2015 appropriation bill of the immediate past administration.
According to Governor Ayade, the increment was as a result of expected funds from Foreign Direct Investments and support for his signature projects by the Federal Government.
According to the Governor, the economic sector is to be allocated 179.7 billion Naira, representing 51.41 per cent, Social Services 53.01 billion Naira, representing 15.21 per cent. Regional Development will also take 53.4 billion Naira, representing 15.31 per cent while General Administration will gulp 63.2 billion Naira, representing 18.1 per cent.
The budget was presented to the State House of Assembly in Calabar, the Cross River State capital, on Monday.
While presenting the budget, Governor Ayade disclosed that, on the direct benefit of the budget to the citizenry, his administration was committed to intensifying effort to meet its recurrent obligation by exploring the available vast potentials for Internally Generated Revenue (IGR).
The Governor added that in a quest to develop the state, his administration had tried to ensure that the public expenditure structure that prioritises a higher capital budget over recurrent would be maintained.
He explained that the 2016 budget was structured on deliberate principle of capital/recurrent budget ratio of 84 per cent to 16 per cent in order to meet the demands.