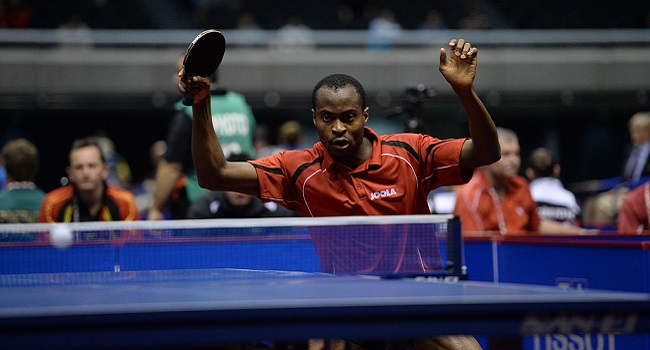 The partnership of Nigeria's Aruna Quadri and Egypt's Omar Assar produced an impressive display in the men's doubles of the ITTF World Tour tagged Polish Open to finish among the top eight at the tournament.
Quadri and Assar started their campaigns from the preliminary stage where they shocked teams from India, France, and Hungary to qualify to the main draw of 16 teams.
The prowess took them further in the main draw when they caused one of the upsets, defeating the seventh seed duo of Portugal's Marcos Freitas and Croatia's Andrej Gacina, 11-4, 5-11, 8-11, 11-5, 11-3 to set up a quarterfinal tie against the difficult duo of Portugal's Tiago Apolonia and João Monteiro.
Apolonia and Monteiro had accounted for the exit of number two seed, China's Zhan Jike and Fan Zhendong in the round of 16. But Quadri and Assar could not withstand the fiery style and pace of the European as they succumbed 8-11, 11-7, 11-8, 11-8 to finish among the top eight in the men's doubles.
In the men's singles, African champion, Assar who has been seeded among the top 32 and playing from the main draw could not play more than a match as he fell 4-3 to Russia's Alexander Shibaev.
Unlike Assar, Quadri made Nigeria proud when he showed exceptional skills against Sweden's Karlsson Kristian with a 4-0 (11-7,11-6,11-9,11-9) thrashing of the Swedish star.
In the second round, the 2014 ITTF star player was unlucky to be drawn against world number two and tournament number two seed, China's Xu Xin. As expected Quadri was no match to the Chinese star as he was walloped 4-11,4-11,4-11,7-11 to exit to the men's single in the second round as the most successful African in the tournament.
Meanwhile, Quadri has described his partnership with his continental rival as the best, and looking forward to more partnership with Omar Assar.