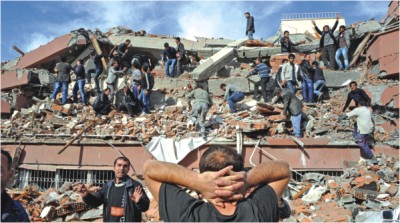 A day after a powerful earthquake devastated some remote areas of Afghanistan and Pakistan, officials have stepped up rescue efforts to help those affected by the magnitude 7.5 quake.
Over 300 people were known to have died, with at least 2,000 injured victims.
Not less than 200 people had earlier been reported dead when the earthquake struck northern Afghanistan, with tremors felt in Pakistan and northern India.
According to the BBC, rescue teams had been sent to remote mountainous areas where the effects of the earthquake were still unclear.
Reports said the quake's focus was deep, reducing its impact.
Victims included 12 Afghan school girls who were killed in a stampede as they tried to leave their classes.
Many people across the region, who were afraid of a new earthquake, spent the night sleeping outside in temperatures close to freezing.
Afghan President, Ashraf Ghani, in a televised address, urged those living in affected areas to help the rescue effort.