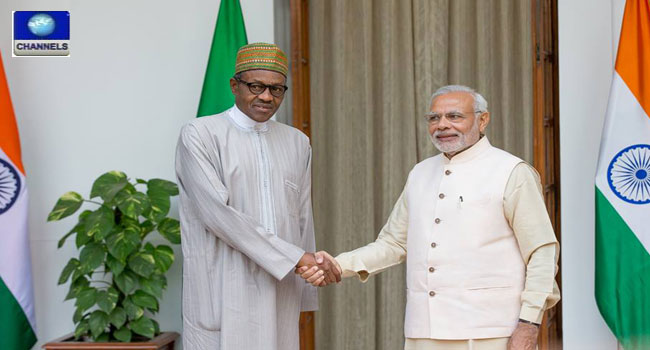 Nigeria's President, Muhammadu Buhari, has held talks with the Indian Prime Minister, Mr Narendra Modi, with focus on deepening co-operations and using the potential of both countries to greater advantage.
Briefing reporters on the outcome of the dialogue held on Wednesday, the Permanent Secretary, Ministry of Foreign Affairs, Danjuma Sheni, said that the discussion also centred on how India and Nigeria could assist each other to meet their aspiration of becoming members of an expanded United Nations Security Council.
Recovery Of Stolen Funds
President Buhari also met with the Nigerian community in India, promising to make Nigeria more secure, especially with regard to the health sector to avoid capital flight.
While addressing the President and other Nigerians at the meeting, the Acting High Commissioner in India, Shola Enikanoliaye, expressed optimism that Buhari's administration would double effort to reduce capital flight to India, where over 40,000 Nigerian go to every year for medical attention.
In his speech, the President further reiterated his administration's resolve to curb corruption and plug all loopholes in public sector accounting.
He vowed to sustain the recovery of stolen funds and prosecution of persons who had been indicted for corrupt practices.
This, he added, was to serve as a deterrent to others who nurse the ambition of seeking public office solely for illegal personal gains.
The high point of the meeting held at the Nigerian High Commission in Delhi was the revelation that no Nigerian living in India belongs to the ISIS terrorist group.
The President urged them to obey the laws of the land, promising to make life comfortable back home.
President Buhari arrived in India on Tuesday, where he is expected to participate in the 3rd summit of the India-Africa Forum slated to hold in the city of New Delhi.
According to statistics, over 10,000 Nigerians are living in India, with majority of them as students, with some of them especially from Kano, carting away academic laurels from Indian Universities.
Nigeria established its High Commission in 1962 to cater for the needs of Nigerians living in India.