Cote D'Ivoire Election: Buhari Congratulates Ouattara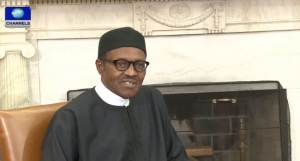 President Muhammadu Buhari has congratulated President Alassane Ouattara of Cote D'Ivoire on his re-election for a second term in office.
In a statement released by the Senior Special Assistant to the President on Media & Publicity, Garba Shehu, on Wednesday, President Buhari also commended  the people of Cote D'Ivoire for putting the unity, stability and progress of their country above all other interests.
The President applauded the peaceful conduct of the election, which President Ouattara won with almost 84% of the votes.
President Buhari believes that the relatively high turnout of voters,  despite calls for a boycott, was a clear testimony of the commitment of the people of Cote d'Ivoire to peace, unity, stability and progress in their country.
The President trusts that in his second term, President Ouattara would continue to do his best to foster national unity and socio-economic development for the benefit of all Ivorians.
He, however, looked forward to continuing to work with President Ouattara to strengthen bilateral cooperation between Nigeria and Cote d'Ivoire and accelerate the pace of economic integration in the West African Sub-region.
Côte d'Ivoire had on Wednesday, re-elected its President, Alassane Ouattara, an economist known for transforming a country devastated by civil war into one of the largest economies in West Africa.
The Independent Electoral Commission said he won 84% of the vote while His closest rival, Pascal Affi N'Guessan, a former Prime Minister, won 9% of the vote.