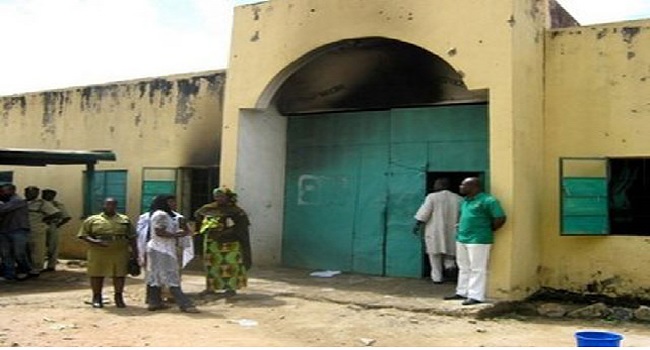 The Nigerian Prison Service is planning to build new prisons and renovate the old ones, as part of effort by the current administration to decongest the prisons across the nation, the Comptroller General of the Prison Service, Dr. Peter Ekpendu, has said.
Dr. Ekpendu gave the hint during the commissioning of the Zaria Prison that was renovated by the Kaduna State government.
Some aggrieved inmates of the prison had on May 28, set the detention facility ablaze during a riot, while two inmates escaped.
During an inspection tour to assess the level of damage at the prison, Governor Nasir El-Rufai, approved the sum of 24 million Naira for the renovation of the facility.
Riots and jail breaks in Nigerian prisons have become a phenomenon that have more or less become part and parcel of issues of great concern in the administration of justice, prisons management and national security.
Some of the causes of most of the riots in prisons in Nigeria include congestion in cells, poor feeding of inmates, lack of court appearance, poor medical attention and facilities and harsh punishment in prisons among others.
The Zaria prisons built in 1903 is not an exception, as it witnessed an attempted jail break on May 28, 2015.
At the commissioning of the renovated building were the Controller General of the Service accompanied by the representative of the Kaduna State Governor, Amina Sijuade and heads of other security agencies.
The Controller General said the renovation of old prison building and the construction of new ones had become very important to decongest detention centres across the nation and give them the necessary infrastructural facelift required in line with international standards.
While acknowledging that Prisons Service was within the exclusive list in Nigeria, he urged Governors to help the Federal Government improve prison facilities in their respective states.
The State Commissioner of Police, Umar Shehu, who was also at the event, assured Nigerians of the readiness of his command to collaborate with the Nigerian Prison Service for speedy dispensation of justice, as a way to further decongest the prisons.